Drum Gallery
Available as Framed Prints, Photos, Wall Art and Gift Items
Choose from 2 pictures in our Drum collection for your Wall Art or Photo Gift. Popular choices include Framed Prints, Canvas Prints, Posters and Jigsaw Puzzles. All professionally made for quick delivery.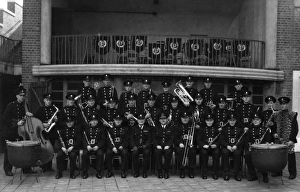 Featured Print
Regional HQ band at LFB Headquarters, Lambeth
Group photograph of the Regional HQ band with their instruments at London Fire Brigade HQ. The purpose-built bandstand behind the band was incorporated in the original design brief of the Brigade's new headquarters building that opened in Lambeth in 1937.
© London Fire Brigade / Mary Evans Picture Library
1930s, 30s, Band, Bands, Bandstand, Bass, Brass, Brigade, Building, Clarinet, Double, Drum, Drummer, Drums, Fire, Firefighter, Firefighters, Firefighting, Fireman, Firemen, Group, Headquarters, Hq, Instrument, Instruments, Lambeth, Lcc, Leopard, Leopardskin, Lfb, London, Music, Musical, Musician, Musicians, New, Oboe, Officer, Officers, Percussion, Percussionist, Regional, Saxophone, Service, Sitting, Skin, Stringed, Thirties, Trombone